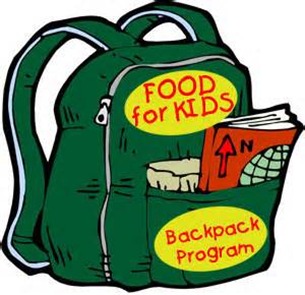 The program is run in conjunction with the Regional Food Bank of Northeastern New York, and provides students from food-insecure homes with nutritious, child friendly meals on weekends, when other supplemental food programs are not available.

The need for this program was recognized by faculty and staff who took action and sought sponsors to launch the program. There has been a generous outpouring of support for the initiative that includes numerous donations from faculty and staff, community members, the Hartford Faculty Association, Hartford Food Pantry, What's Cookin', the Hartford United Methodist Church, Herschel-Argyle Lodge,Yoked Parish Church, Foothills ATV, Hartford Ridge Riders, Smith Equipment, many Hartford Central school student clubs, Hartford PTA, Glens Falls National Bank, and the Adirondack League.

The food for the backpacks is picked up and packed on Thursdays with the help of Mrs. Shaw, Mrs. Harrington and a senior volunteer On Fridays, members of Key Club and the Jr. National Honor Society help deliver the bags.

Each bag contains approximately ten different purchased foods designed to provide nutrition and calories for the children over the weekend. These are kid-friendly, shelf-stable foods that require no preparation or refrigeration. Children can just "open and eat" without adult supervision.

The BackPack Program at Hartford Central School currently assists 21 students. Since the program's implementation, teachers noticed a significant improvement in the well-being of participating students.

If you would like to make a monetary donation to support the BackPack program at Hartford Central School, please make all checks payable to the Regional Food Bank of Northeastern NY and write Hartford BackPack Program in the memo. Checks can be mailed to: Regional Food Bank, 965 Albany- Shaker Road, Latham, NY 12110

---

If your family could benefit from this wonderful program, please contact Trisha Shaw 518-632-5222 ext. 513.