Phone:
Email:
Degrees and Certifications:
Welcome to Fifth Grade! My name is Ms. Headwell and I teach ELA and Social Studies. I am so excited about being your teacher this year! I cannot wait for the fun that we will have together. I have some awesome books that we will be reading together, so get your thinking caps ready!

This is my sixth year teaching, and my fourth year in fifth grade. I graduated from St. John Fisher College in Rochester, NY, and then went on for my Master's degree in Childhood Education from SUNY Plattsburgh. I currently live on a farm in Salem, NY with my fiance and our son.

I cannot wait to meet you and have a fun and exciting year!

You can contact me on ClassDojo! Please be aware that I have set Quiet Hours and any message sent past 4:30 pm will be answered the next morning.

September is the month of Respect!- Haizley C.

October is the month of Responsibility!-Evalyn B.

November is the month of Citizenship!-Aubree P.

December is the month of Caring!- Ben A.

January is the month of Courage- Aiden P.

February:

March:

April:

May:

June:

A Soaring Tanager is a student who has started to "soar" this month! These are students who have been doing their best and their efforts are not going unnoticed. Congratulations to all of these Soaring Tanagers!

September: Gavin S. and Grace B.

October: Ryder L. and Clarissa Z.

November: Reagan E. and Tyler H.

December: Addyson W. and Emmett W.

January: Aiden P. and Evelyn B.

February:

March:

April:

May:

June:

A Bucketfiller is someone who shows kindness and respect to others. They go out of their way to help others in the school community. They fill the buckets of others and do not take!

September Bucketfillers!

Evelyn B.- Evelyn brought her teacher cookies on the first day of school!

Peyton G.- Petyton helped give notes to a friend who missed a lesson.

Abigale M.- Abigale helped a friend read a chapter in a book that they missed when they were absent.

October Bucketfillers!

Haizley C.- Haizley helped clean the computer mouse container for her teacher without being asked!

November Bucketfillers!

Amelia H.- Amelia gave some really nice compliments to her friends.

Aerial L.- Aerial has really put some excellent effort into her writing recently.

December Bucketfillers

Ben A.- Ben took his time on a recent test and used all of the strategies that his teacher suggested.

Aiden P.- Aiden took his time on a recent test and used all of the strategies that his teacher suggested.

Tyler H.- Tyler made some beautiful artwork for his teacher that is now hung on her door!

January Bucketfillers

Addyson W.- Addyson went home and worked on some of her classroom IXL skills at home. She helped earn her class a donut party!

Faith D.- Faith has been putting in some awesome effort this month in ELA.

February Bucketfillers

Grace B.- Grace earned TWO bucketfillers from me early on in the month. Grace earned one bucketfiller because she helped a friend get themselves packed up at the end of the day when they were running late. The other one that Grace earned was from filling her teacher's water bottle for her.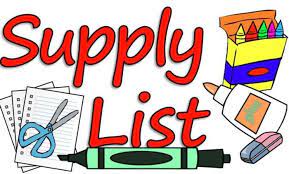 Mrs. Strong and Ms. Headwell

Colored pencils

2 packages of #2 pencils

1 package wide-ruled loose leaf lined paper

4 two-pocket folders - (1 blue, 1 red,

1 green, 1 orange)

1

sturdy

plastic homework folder

1 package of dry erase markers

3 Marble Composition notebooks -

(1 red, 1 blue, 1 black)

1 set of sticky notes

1 pair of scissors

1 handheld pencil sharpener

2 packages of glue sticks

1 pencil pouch (no pencil boxes)

Headphones* (if not sent from 4th to 5th grade)

1 package of highlighters

1 package of index cards

For Music: 1 two-pocket folder and your recorder from 4

th

grade (or $6.00 to purchase a new one)

Donations of the above items to the class are greatly appreciated

Please DO NOT label any items – this will

be done together on the first day of school.

If you would like to support our classroom, please see our Amazon Wishlist.

https://www.amazon.com/hz/wishlist/ls/83IEELA4EBML?ref_=wl_share